This morning we had Ana put down. She had stopped eating and was moving with great difficulty, and had stopped purring. She was not as angry as she used to be. She was still drinking but was clearly not going to last.
She was 18, which is not bad for a barn cat.
Here are some photos of her. It's all very raw right now because she was my bestest friend for 17 years.
Here she is napping in 1999 or thereabouts. I was forever coming up and trying to get a photo of her asleep, and just as I would hit the button her eyes would pop open and she would glare at me for waking her.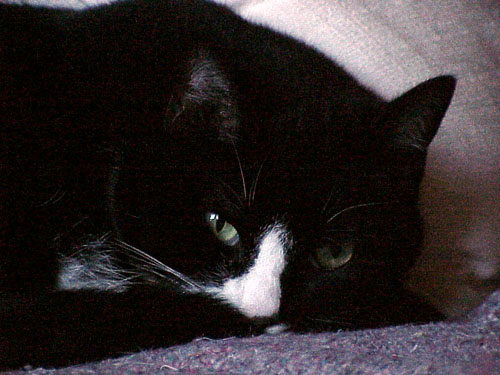 With her co-cat Mikey in 2001. Mikey died in 2003 and is buried under our Cecile Brunner.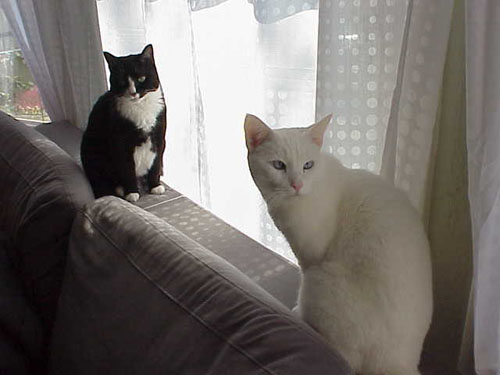 Scowling at me to get the camera out of her face and leave her alone. Ana was a very angry cat.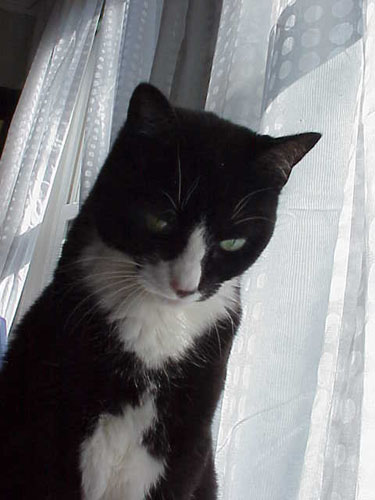 Coming out of the greenhouse window in our kitchen in Berkeley. When you saw this you knew some poor plant had been chewed within an inch of its life.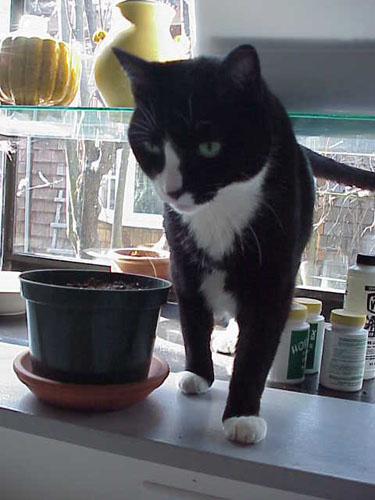 We buried her by the side gate, next to the clematis. I put a bed of grass in the grave because she liked getting out and eating grass until she puked, and a bouquet of flowers over her head because she loved eating cut flowers and puking them up on the stairs. We planted a yellow miniature rose over her, sent by Noel's parents for our anniversary. I miss her already.
Edited to add: By popular request, this photo of Ana being introduced to Rosie in December 2001. She got up there and arranged herself on that doily without any hinting or helping from anybody else.