I'd been pointed to Thornwood Labradors by somebody on the Labrador-L mailing list when I asked about breeders who might have an upcoming litter. I liked the breeder, Cheri, instantly from her e-mail, and we spoke on the phone, as well.

Because of the indirect way I'd found Thornwood and Cheri, I wanted to meet her in person and see what her dogs looked like. I had a good idea that I would like her, and I'd seen photos of her dogs, but it's always best to see for yourself. Noel and I wanted to get out of town, anyway, so we drove up the coast and then over to Cheri's home in Klamath Falls.
What we found were some really happy, beautiful dogs, and we got to see close-up how strong the ties are between all of them and Cheri. We played with some puppies (Cheri told us we played like cat people, which I guess we are), met lots of dogs, and had an altogether nice visit.
We visited another breeder that weekend, and liked her a lot, too, but in the end, Cheri could give us a puppy who would come home after Thanksgiving, which was very important, and we liked that she had a lot of experience. With very little new-puppy experience between us, we decided that would be a good thing to have available.
Fortunately, Cheri liked us, too, and agreed to sell us one of the little black girls from her Bessie-Marie's litter, who'd been about a week old when we first visited.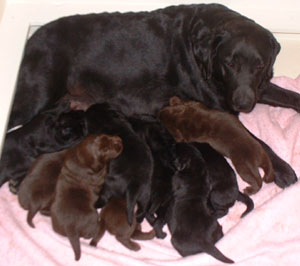 Bessie-Marie and her week-old litter