Last night the girls spent their first night outdoors in the chicken yard, courtesy of their fancy portable temporary housing unit.
It was a trifle dramatic. I got home just in the last bits of sunlight, and they were all huddled on the concrete slab making lots of noise about how unhappy they were. When I picked them up, one by one, to put them in the house, they squawked and flapped and acted as if they were being killed. For ten minutes after I put them in the house and shut the door, they made quite a bit of noise, but eventually they settled down. When I let them out again this morning they were all worked up again.
Well, getting used to new things is always hard.
They are liking their yard, though, and especially the compost piles, which are full of bugs and seeds for their consumption. Here're some photos:
Here are Debbie, Carole, and Liza on the narrow perch. They are getting too big to be able to balance well on the narrow edge of the piece of wood, but they try it anyway, flapping and teetering.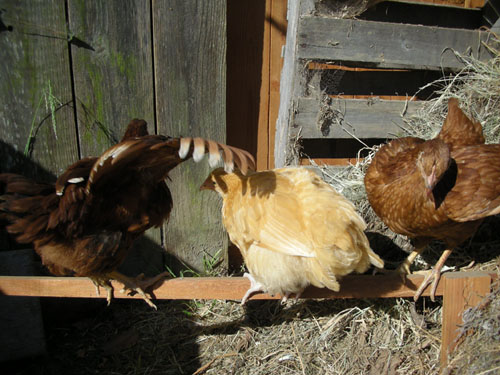 Then they were exploring the compost pile, eating bugs and looking at stuff.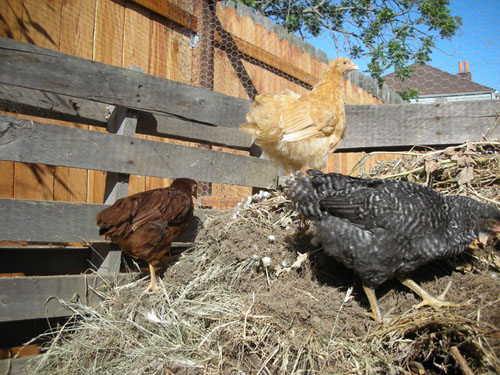 Liza was the last one off the perch, still trying to get the hang of balancing with her larger size.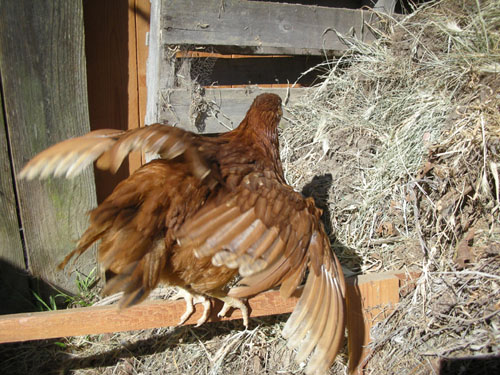 One of their favourite places to perch is up on the edge of the compost bin. I think because it is well above dog level (and Rosie has been harrying them obsessively; I'm about to break out the heavy guns on untraining her from that behaviour). They climbed up, settled down, and chattered at me for a while.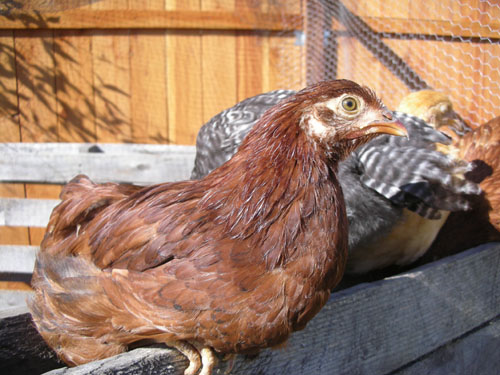 And some movies, too:
The girls on the compost bin, with bonus dog pouncing at them:
The girls on the compost bin, then they start hopping down: