December 20, 2006
Tokyo: Day Three
Tonight is our last night at the charming modernist Ryokan Andon. We've really enjoyed staying here; it's out of the center of the city so while we have a longish subway ride, the neighborhood is delightfully quiet.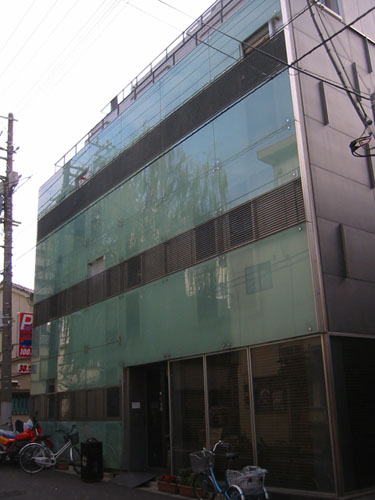 This morning we had breakfast downstairs for the first time (it's a Western breakfast, so we haven't been that interested). Then we set out for our day's adventures in the city. We got an earlier start than usual, so there are more photos today.

Technorati Tags: tokyo, travel
We started our day cruising the restaurateur's shopping district on Kappabashi-dori. Every shop there serves restaurant owners or cooks, and we went into most of them. Imagine a specialized store that only sells metal kitchen sinks. That was Kappabashi-dori.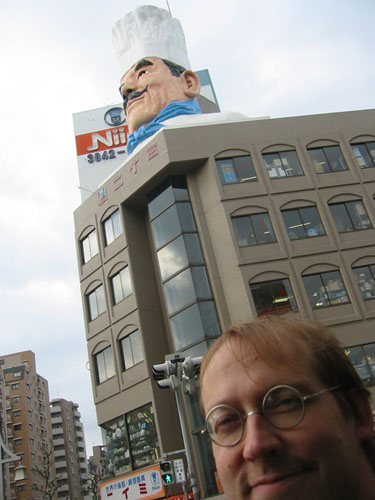 One shop specialized in coffee things, so we went in to check it out in more detail. Mostly stuff we can buy in the US, but it was fun to look at things.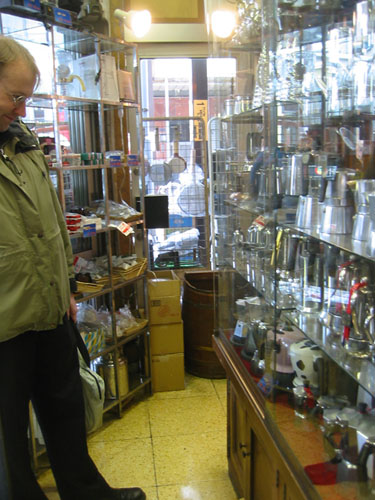 This plumbing fixtures display with the mini-toilets was fascinating. I'm not sure why you need a little model toilet, but maybe they are glaze samples.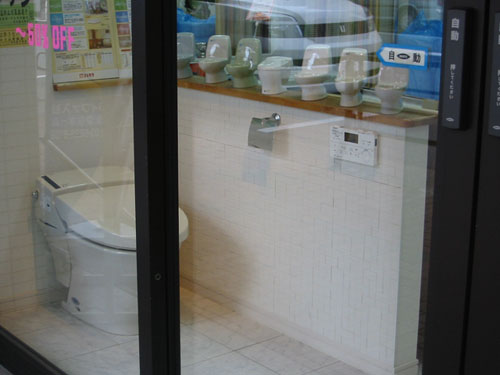 One stunning moment: we looked down a side street while on our way back to the subway, and saw this: a temple with a graveyard. It's the Tokyo Hongan-ji, and you can just barely see the tops of the grave markers over the tall wall there.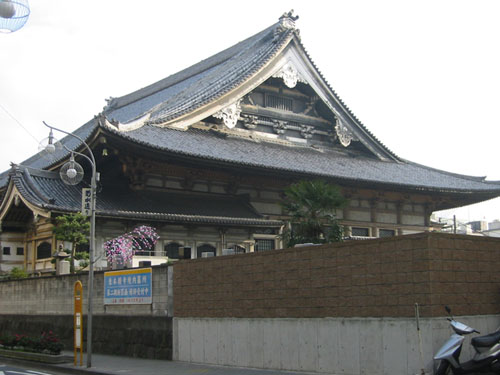 Here's a great shop: they sell plastic food for restaurant displays. I love how they display it as if it were real food.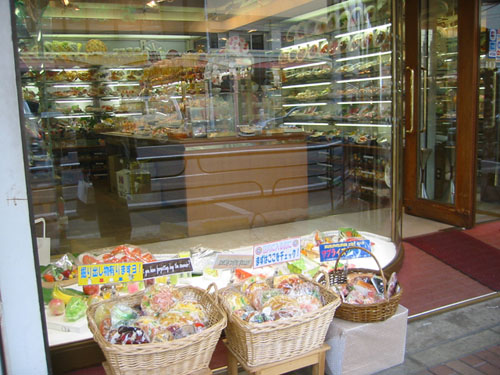 When we were all restaurant-supplied-out, we made our way down the subway to Ginza, which is a high-end shopping district. While the Western haute couture stores were not very interesting, the Japanese department stores and other specialty shops were fascinating. Like this "fruit bar." All you can buy is fruit.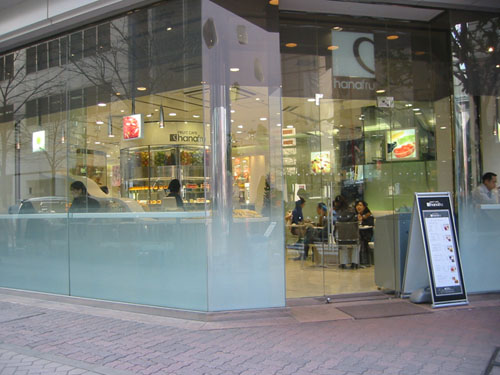 The sun was setting when we were getting a bit tired of Ginza, so we walked along the main drag for a while toward the subway station. Everything is very shiny and smooth there, and all the people are fashionably dressed (except for us, looking like we'd just spent a morning trolling various cooking implements in dusty storefronts).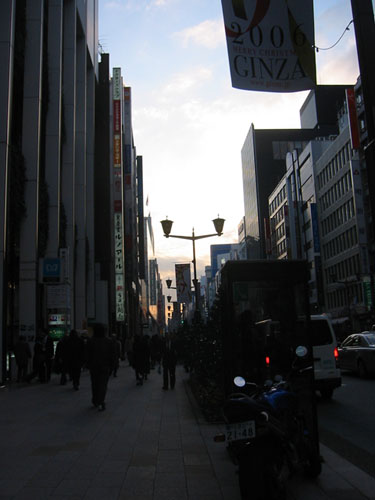 One fascinating element of this trip has been the preparations for Christmas. The Japanese are getting into the holiday big-time, but they mostly go for the commercial aspects. So as we were walking along looking in store windows, we saw this spectacle: a Christmas tree, with a crowd of Japanese people around it taking photos and videos of the lights turning on and off.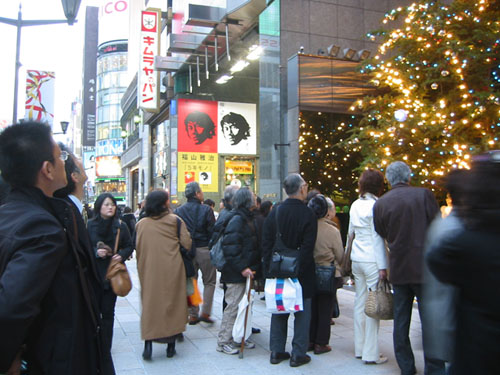 After Ginza, we took a series of trains across town to Omote-sando, which is yet another posh shopping district, but there were a few stores of interest to us.
Obviously, the Dior building was of interest chiefly as an architectural feature.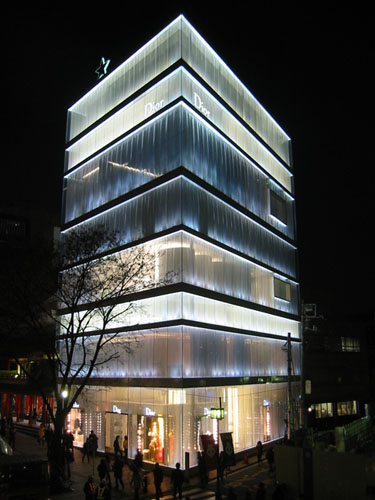 The level of design in these places is very high. This is a public toilet, right on the street, and it's spotlessly clean and has a high level of detail in its construction. In the US the same toilet would be utilitarian and plastic.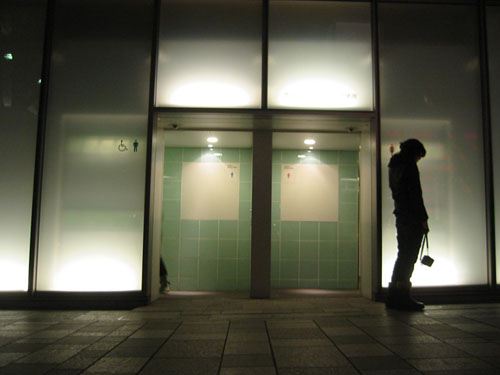 We took a train during rush hour to the place where we planned to have dinner in Shinjuku. This is the train right after we got off it. But it was very polite and non-pushy. Of course, if we had not planned to get off at Shinjuku, we would have had to wait for the next train because we ended up just sort of pushed out of the train by the mass of people.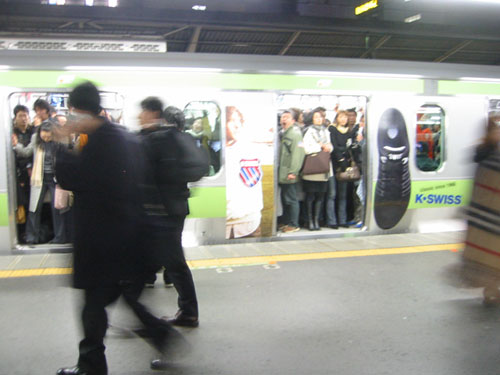 I like this building.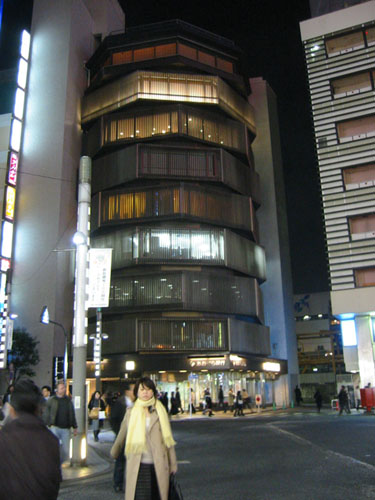 We had dinner at a great restaurant, Tsunahachi. They do tempura, but not the tempura you're used to in the US. It's all very fresh, and we sat at the bar and were served pieces one by one. It was delicious, and not as heavy and greasy as American tempura can be. Afterwards we wandered around and did a little shopping. We bought the new digital camera I wanted, poked in a few other stores, and then allowed the mass of people funneling into the subways to lead us back to the ryokan.
Tomorrow, we have a morning of piddling around and then off to the airport to go home. Not a very long trip for me, alas (I missed a whole day because of bad weather in LA), but it was definitely lots of fun. I think the next time we come it will have to be for longer.
Posted by ayse on 12/20/06 at 5:16 AM