Howdy Do
Everybody else I know is all worked up about Thanksgiving and how stressful it is going to be, but it's my favourite holiday of the year (secular, all about eating, what's there not to love?) so I'm not listening. Besides, we're doing another all-labrador Thanksgiving with some friends, so there will be eating and doggy love, too. Tomorrow I have the day off my internship and I am staying home baking cake and trying to think of something creative to do with some vegetables. Oh, and I might just do something with these guys: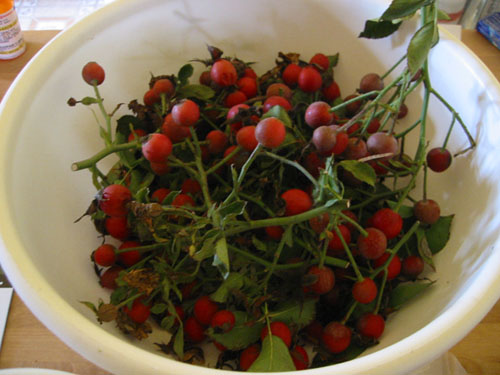 Yup: rose hips. I'm not sure I picked them at the right time: we don't get killing frosts here so it's kind of hard to gauge. But I do know what to do with them: clean them, remove the seeds and core out the nasty spiny bits in the center, boil until soft, make into jelly. Mmm-mmm. Next year I will have to make lavender jelly, too. Those subtle herbal jellies are just stunning.
Oh, and here's Noel's new sweetheart. There's been a lot of musical instrument love here, lately, but this one takes the cake. This is a very nice piano that we got for nothing more than the cost of moving it. Noel has been very happy about it.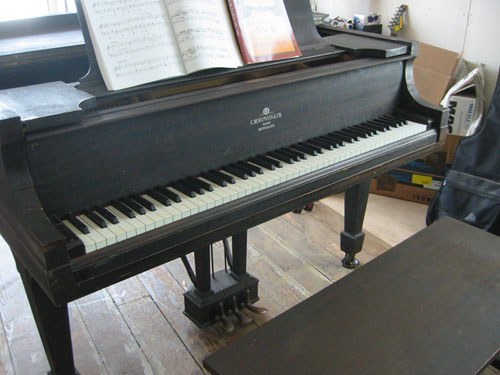 Technorati Tags: cooking, jam, roses
# Posted by ayse on 11/21/06 at 7:48 PM | Comments (0)
Working at the Laundry
So, let me tell you about how the internship is going. (Our building is a former laundry.)
Short story: very well. If they offered me a job here after school, I would be hard pressed to be able to say no.
Technorati Tags: architecture, school
Long story: I'm working on a high-rise college campus, and the complexity is really fun. The team discovered I had a sense of order for documents, so I've been assembling the specifications and today, as we did a big printing, I kept track of all the drawings as they were printed and came in from consultants. Lots of drafting, too, because the AutoCAD fun never ends in this business. I did a roof drainage plan, a detail for bringing the drains down the columns, and a bunch of 4-hour wall details. Non-stop fun.
I've also been doing some research into LEED points, which is a certification for how green your building is: you get points for various features and innovations, and the more points you get the nicer a rating you get (certified, silver, gold, and platinum). I'm getting ready to take the test to be a LEED AP, which is basically meaningless unless you are in this business, but trust me, it's useful. Doing a real building makes it make much more sense.
So I'm enjoying the internship, which is letting me see a lot of different parts of the business that it would be too expensive to let a paid intern see, like a day-long site visit and a meeting with the contractor for the high rise. I like the company, I like the people, and I really enjoy working at a place that had the sense to hire a librarian to organize the library instead of just letting is descend into chaos.
The only thing I don't like is the commute, which is an hour each way on public transit. I'd rather be closer to downtown San Francisco, or even in the East Bay. We're out in the Mission, which is great for lunch (I've been having burritos every day) but not so great for late nights (hellloooo, street people!) or meeting up with friends who work downtown (the busses in San Francisco are incredibly slow). The slight side benefit is that Noel and I can commute together for half of it, so we've often met each other downtown and gone home or sometimes taken a little extra time and had dinner. It is nice living at home again.
I've been registering for classes for Winter quarter, which is sad. But I'm in the home stretch now: I have 13 months left until I graduate. I really need to start thinking about what I want to do for a fifth-year project: my advice has been to do something very complicated programmatically, to have a great portfolio piece that showcases my skills as a project manager. That seems to make sense to me: if I want to do laboratories (which is where I've been leaning), then I need to show that I can do them.
Funny: I like housing, but I find designing it kind of boring. Not single-family stuff, but mass housing. The problem gets solved once or twice in the unit plan and then you just copy and paste all over the place. Not so exciting.
# Posted by ayse on 11/13/06 at 11:38 PM | Comments (0)
I Am Still Knitting That Sweater
I haven't posted about it much lately because it's going along very slowly: a few rows on the bus every day, that sort of thing. Also, I keep disliking it and raveling.
Today I put it on some waste yarn and tried it on (the real benefit of the top-down method), and I'm not sure I quite like the shaping but I think it is workable.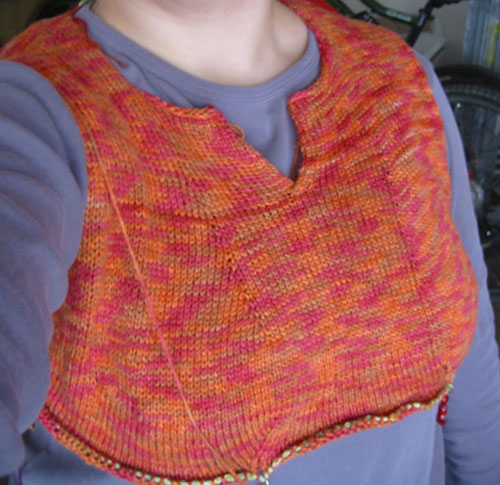 The yarn is really droopy, which is throwing me off. I think I will get down to the waist and see if it still bothers me how the bust increases and decreases fall.
Technorati Tags: crafts, knitting
# Posted by ayse on 11/12/06 at 4:27 PM | Comments (0)