December 19, 2006
Tokyo: Day Two
We got off to a bit of a late start today on account of some phone calls and general lazing around we were up to in the morning.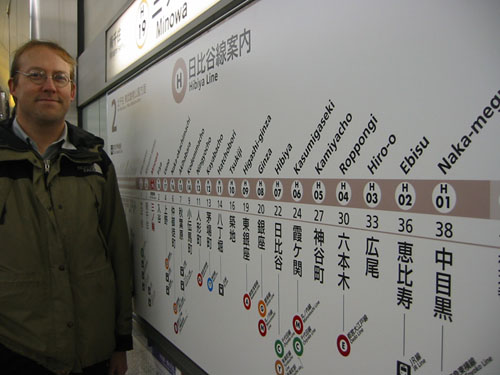 The thing I love about this city is how nicely information is displayed. This sign in the Metro station by our ryokan has the station name in Kanji and English alphabets, the stop number (H01, etc., with the H standing for Hibiya, which is the name of the grey line) and then the time to get to that station. On the bottom are the connections. Very easy to parse, for both Japanese and non-Japanese speakers.

Technorati Tags: tokyo, travel
We spent the afternoon in Akihabara, which is a giant locus for technology shops. Multi-story, loud, crowded technology shops. Everywhere we went, somebody was yelling, often into a megaphone, and there were signs and flashing lights all over the place. The crowds didn't bother me but the noise was overwhelming.
And there was a lot of weird stuff, like this display of home bullriding machines. For real. I have no idea who wants such a thing, or why there is a market for seven or eight different models.
Here's how one store was displaying their printer cartridges: in a dairy case. Not chilled, but definitely that grocery vibe. Alas, they did not carry cartridges for my printer.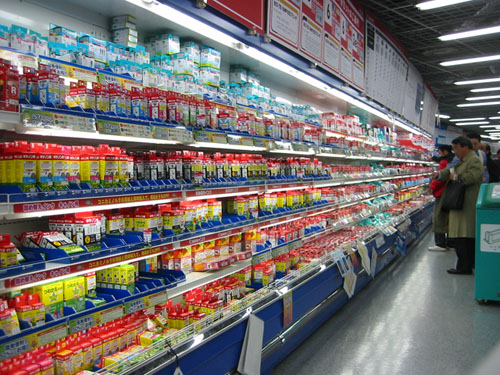 In the later afternoon, we went to Noel's company's office near the Imperial Palace to do some work stuff (well, he did. I played tennis on a Wii with one of his coworkers and lost horribly). Here's the moat. It was pretty grey and cold today.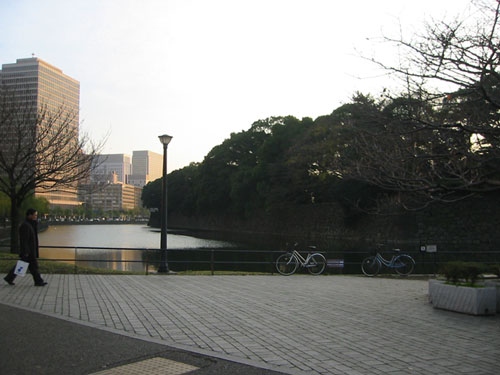 Afterwards we went to a little sushi place Noel had gone to before I got here, and had some of the most amazing sushi I've ever eaten. It was expensive, but it was so totally worth every penny, including the airfare.
Posted by ayse on 12/19/06 at 5:09 AM