Decluttering Again
We've been spending quite a bit of time decluttering, because a couple of weeks ago I woke up and just needed to get rid of a lot of stuff. So I've been making a big pile in the front parlour: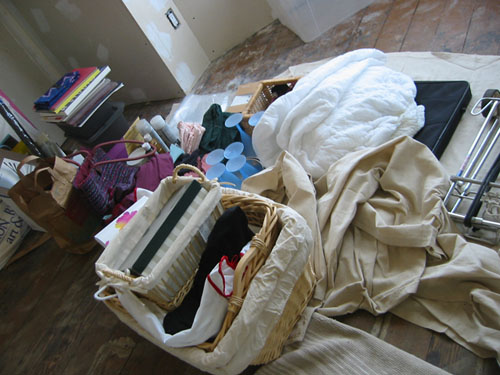 Most of it is art supplies, especially paper I know I'm not going to use because I didn't like it when I tried it, and some paints and things that I got for specific projects and have never used again. I also pitched a lot of stuff, recycling drawings and throwing away old models. I don't need to keep this stuff forever.
And in the same spirit, I filled up four shelves with books that are either duplicates or books I know I won't read again (or couldn't make it through in the first place; my bargain-bin book habit can result in some really horrible experiences). Some of these have made the trip to the used bookstore and been rejected, some are new additions to the shelf.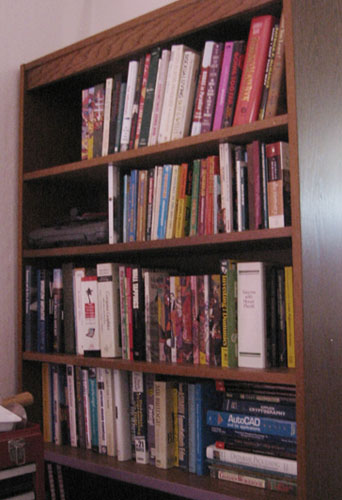 I'm thinking of having a non-garage non-sale, inviting people to come over and pick through and take what they want. Anything left over will either be donated or thrown away.

Technorati Tags: decluttering
# Posted by ayse on 09/17/06 at 3:28 PM | Comments (0)
A Totally Different Orange Sweater
I kept raveling and reknitting the Green Gable sweater until I realized that the problem was not the width of the neckline, the depth of the lace section in front, the shape of the sleeves, or the shaping around the bodice, but the simple fact that I could not think of an occasion when I would wear it, and also I don't much care for raglan sleeves because they make my shoulders look out of proportion. So I wound my yarn up again and started fresh with my own design. Because.
I'm still doing a top-down sweater, but this one is based on the top-down sweater with set-in sleeves (yes!) from Barbara Walker's Knitting from the Top. I'm adding some shaping details of my own to accommodate a tighter fit than she is working with, and so far it is coming along swimmingly.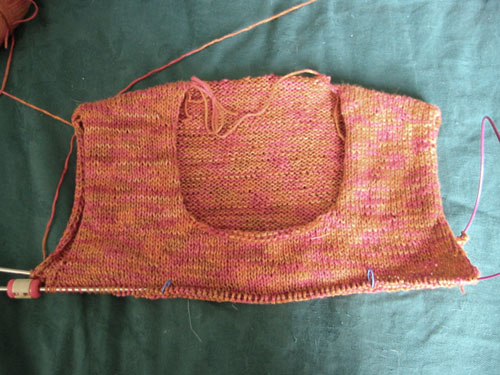 Technorati Tags: crafts, knitting
The sweater begins with a provisional cast-on at the top of the shoulder, from which you knit the back and front separately down to the underarm shaping, where they meet up and the sleeve stitches get picked up, too. Walker has two options: knitting the back first then the front, or knitting the back and front in tandem, which is what I am doing, to simplify shaping.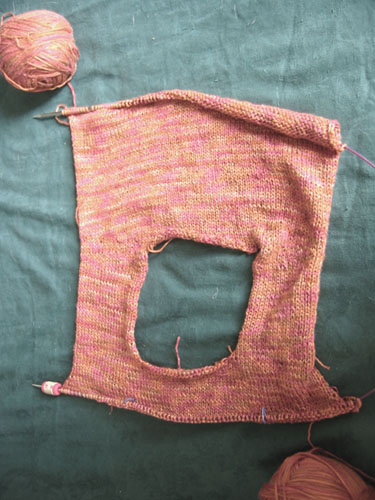 I put both sides on the same long circular needle, with a row counter on one side. When I reach the row counter from either side I increment it, then turn around and work back. That way I'm keeping track of my rows, and both back and front have the same number of rows.
So far I'm much, much happier with this sweater than I had been with Green Gable. I think I don't much like patterns for sweaters; I prefer something more along the lines of a recipe.
# Posted by ayse on 09/01/06 at 11:18 AM | Comments (0)