December 21, 2006
Tokyo: Day Four
The short vacation is all over, alas. We're in Narita Airport waiting for our flight in the Premier Lounge (Noel has been flying enough that we can come in here, plus we upgraded to business class for the trip home). We have a late flight out -- 7pm -- so we were able to do a bit of our usual silliness today.

Technorati Tags: tokyo, travel
In the morning, we made another one of our epic subway trips, all the way out to the other side of Tokyo to see a yarn store, Puppy Yarn. Yeah, Noel kinda owed me one for a couple of hours at the Tokyo office on Tuesday.
As it turned out, the store was kind of small and the selection, while probably great for Japan, was mostly uninteresting to me because a) most of it had wool, and b) I can buy that stuff in San Francisco and be able to read the labels. But I did pick up some nice silk/mohair along the lines of Kidsilk Haze but softer and in better colours.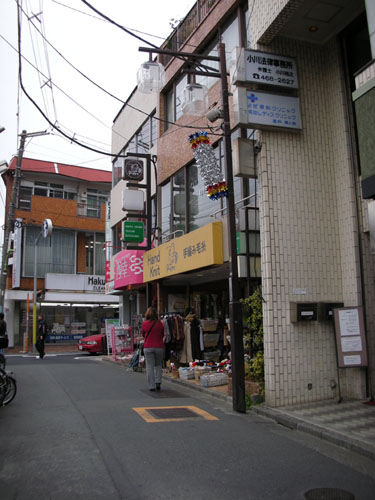 We wanted to get a drink, but the idea of going into a place labeled "Scandinavia's Smell" was a bit much. I got a disappointing tea drink from a machine, and Noel got one of those espresso shots in a can.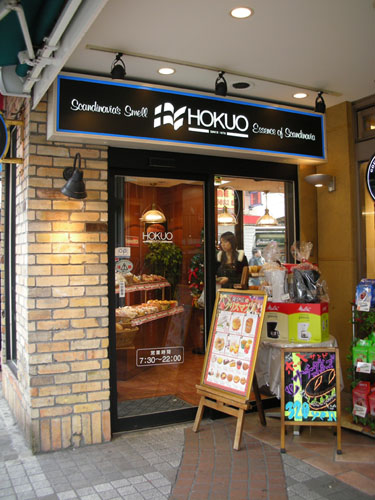 We went back to Omote-sando, mostly to see how different the neighborhood was by day. Here's an advertisement from the sidewalk: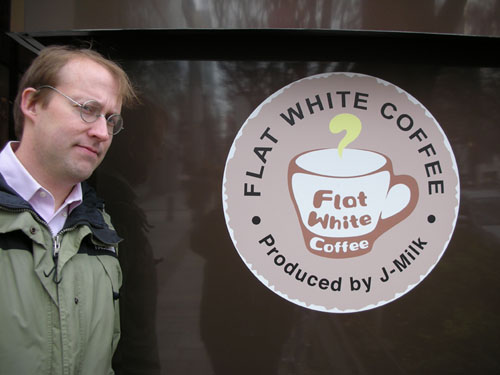 We have no idea what it is for.
We went into this toy store (five stories of Japanese toys!) on a mission from a friend. Afterwards, Noel had to pet this dog, which was easily the biggest dog we saw. Most dogs in Tokyo seem to be very small.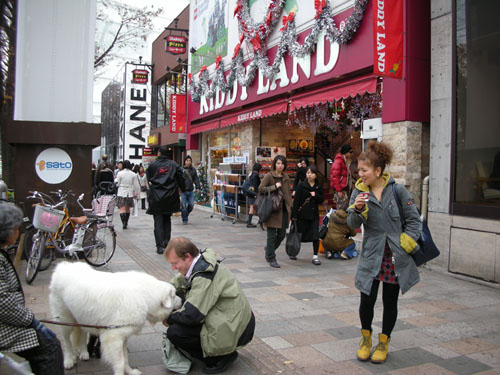 This was really interesting: at this intersection, the road is made up of bolted-down plates, so they just lift the plates to deal with the infrastructure below, rather than having to dig. There's a subway station below this, too.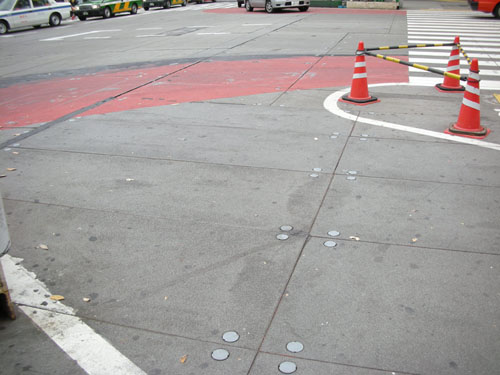 We went back to the ryokan, picked up our bags, and headed out to Narita. After my disappointing tea experience, I was a little hesitant to buy another drink, but let me be the first to say that "Miracle of Grapefruit" really is delicious.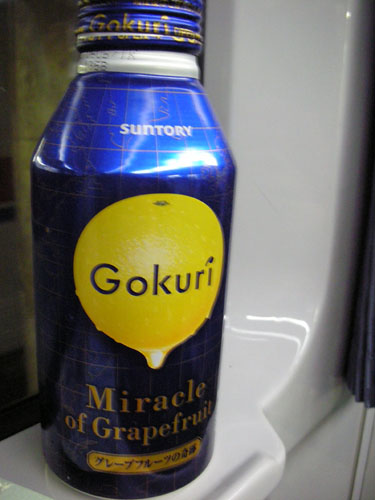 As you take the train (we paid extra to take the express with comfy seats), the city goes from dense high rises, to closely spaced smaller buildings, to individual homes in the suburbs, and eventually it melts away into fields and rivers.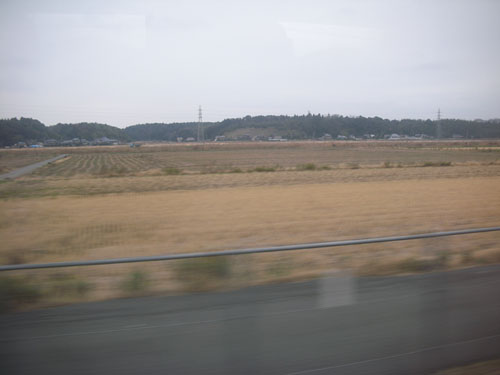 A great trip.
(End note: we just found out that we can't buy sake duty-free because of the liquids restriction; apparently we get re-screened and then any liquids get confiscated at customs. I mean, how does this help?)
Posted by ayse on 12/21/06 at 12:42 AM