So on Day One, I basically set a personal record for barfing. Yay me. My goal when I started the day on Day Two was to not throw up at all. Not throwing up was one of the two steps they gave me to leaving the hospital, and I wanted to leave pretty much as soon as I realized there would be no more showers.
In the morning my roommate was moved to another unit -- her condition had improved enough. That was good because not only did her family stay with her until really late (around 2am), but she spent most of the night crying. I spent most of the night having my vitals (blood pressure, blood oxygen, and temperature) taken, and giving up regular vials of blood as well. Neither of us slept very well.
I had a decent breakfast of scrambled eggs and toast. It felt like a minor victory to eat, and the eggs were not great but they were fine. I didn't feel sick at all. A little later a physical therapist came by and had me sit up in bed, then, in an extremely revealing moment, had me walk down the hallway. Revealing because I was wearing an IV gown and a cardiac monitor and pretty much the whole thing wanted to slip off of me, and there was not that much underneath. This was a little inhibiting for me, I admit. I took it as a sign that I was getting better that I was a little embarrassed at flashing half the ward.
They want to get you moving as soon as possible so the natural plasticity in the brain will take over and start rebuilding connections and relearning old skills. Anything that you consciously or unconsciously decide you "lost" and don't try to regain, that is lost to you forever, and that can include things like pooping, so it makes sense to get up and about as soon as possible. There's no lying in bed just resting up after a stroke, unless that's the level of activity you're aspiring to.
Anyway, we took a quick turn down the hallway about 20 feet, which was the third most disorienting walk of my life (first was ER room to bathroom, second was trying to get down the hallway to the kitchen; I keep these neatly ranked in my head because that kind of order helps me).
That was about all I was up for, but they suggested I try sitting up as much as possible that day; I had been lying down which helps keep the world from spinning but again, training early and often was key.
I also was to turn my head from side to side and up and down as much as possible. At first this was horrifying and disorienting, but it did get better.
Just around noon my neurologist sailed in. She's amazing. First of all, I love doctors who talk to you like you're smart, and she did. She explained what had happened in my stroke super clearly, and helped me understand it.
I'll talk later about risk factors and that sort of thing. Right now let me tell you what she told me.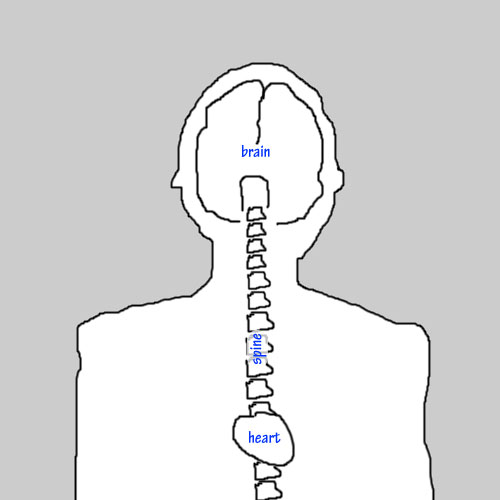 So here's your torso. I left out all the crazy internal organs that get in everybody's way so you can see that there's a spine that runs up to the brain, and the heart is kind of right in front of that. You need all these parts. None are strictly speaking optional.
I think we all know that.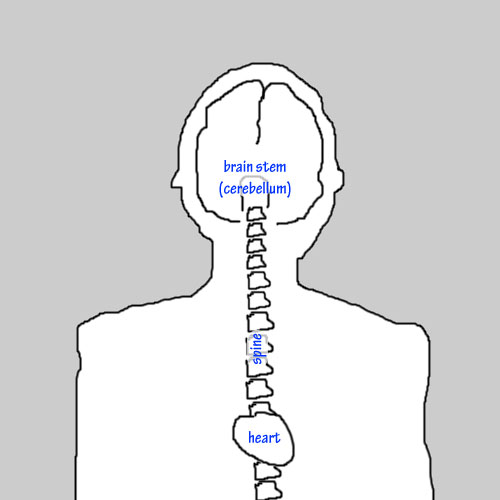 Where the spine ends is a part of the brain called the cerebellum. This controls our most basic functions like walking, breathing, swallowing, and probably making the middle finger at taxi drivers although that has not been medically confirmed.
We lay people call that the brain stem because we like to think brains are like plants. Or something. Hey, look how good an ear I drew on the right side there. I did that freehand in Photoshop.
There are two blood vessels that go from the heart right up the spine (actually wrapped inside of the edge bits of the spine) to feed the cerebellum. One on the right, one on the left. These are called the vertebral arteries and are pretty small compared to the more famous neck blood vessels like the carotid or the jugular. Not pictured for clarity because nobody needs to know any more about those guys.
Anyway, working around this system are obviously a bunch of blood vessels that carry blood everywhere and help things work out. Your brain needs blood all the time but the catch is not TOO much blood, like if a huge pile of blood gets in your brain it does not care for that at all.
There are basically two kinds of strokes: a blood clot gets lodged in the brain and cuts off blood to part of the brain that dies from that, OR a blood vessel bursts and floods the brain with blood and the brain dies from that.
This goes to show that we were either designed by an idiot or a lot of this sort of thing evolved over time and with the help of pure dumb luck and it's kind of surprising anybody can do anything at all.
Anyway.
Neither of these is exactly what happened with my stroke. I had an arterial dissection -- that's when the inner lining of the artery delaminates from the outer "skin" of the artery.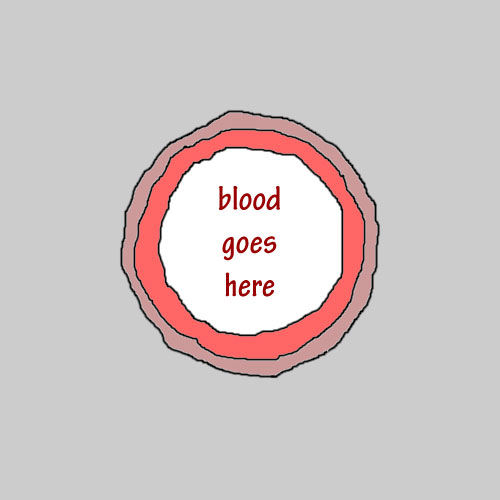 This is that a normal artery kind of looks like, with a lot of creative license. There's a kind of skin part, then a lining called the lumen that's where doctors give you shit about eating bacon because it may cause buildup in arterial plaque. Normal people have a lumen, healthy people have one, it's part of the whole having blood vessels thing. If you've ever done any plumbing work you know pipes get a lumen, too, and it's only a problem when the lumen gets so thick that it clogs the pipes.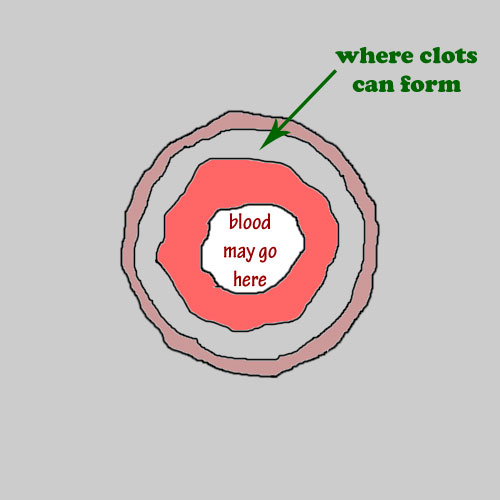 Or, well, if this happens.
Some people, maybe some people we know who are writing this post, have bad arteries that can delaminate from the lumen. In my case the lumen delaminated from near my heart all the way to the end of the vertebral artery on the right side of my body. This was actually working kind of OK because the left side had picked up the slack and was pumping more blood in there. Lucky me, number one.
Based on my medical history, this delamination had probably been going on for 1-2 years. I had this pain in my left shoulder. I saw doctors and physical therapists about it and everybody agreed it was my excessive mousing and I should cut that out. I even used a couple little pieces of software to remind myself to take breaks and stretch my shoulder out, but it kept coming back.
Turns out, stretching and warm compresses do not help with arterial delamination all that much. And the weights I was using to try to get the shoulder stronger were accelerating the process.
So, by the time I hit the emergency room on the 13th, this artery was fully delaminated and probably mostly occluded (blocked).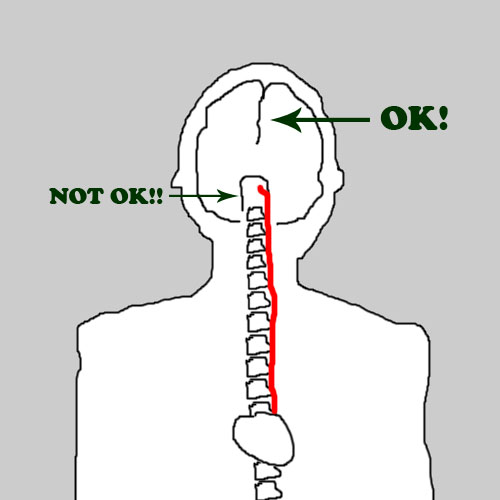 Then I had a teeny tiny stroke when a blood clot formed behind the smushed-up lumen and popped right into my cerebellum. Boom, stroke. Luckily for me, that happened while I was in the ER.
The cerebellum, you remember that, right? Basic motor functions? When I was learning brain parts in high school I thought of it as anything a lizard could do that I could also do. So breathing, swallowing, so on. After I was admitted they spent a whole day checking me for these basic motor functions because a stroke in the cerebellum could mess you right up.
Have I mentioned how lucky I was?
Anyway, the stroke didn't affect any other part of my brain. But I think, given that most people don't know how very specific strokes can be, that any future forgetfulness or stupid thing I do I'm going to blame on this stroke. Even though the only thing I can really blame on the stroke is that I walk like a drunk now.
So, end of part 2.