This is the sixth week of the term, and today marked the halfway point to the end of studio, so we had a midterm crit. This means we set up our desks with what we have been working on, and our teacher invites local architects and other teachers to come in and critique our work. For the last few weeks we've been designing a visitor's center and hostel to go at the base of one of the local "mountains" (more of a hill, really).
Here's my desk, waiting to be attacked: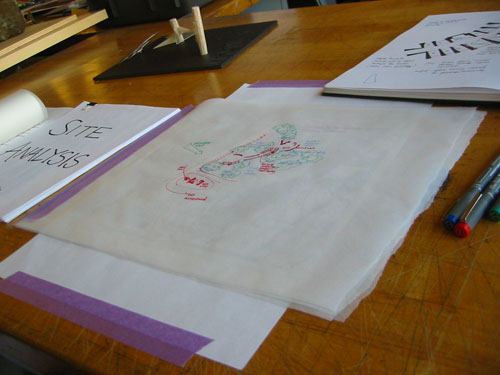 I was pretty nervous about this crit. Not because I didn't have enough work done, but because for some reason I can work on a project for a week and get pretty far along, and then the teacher will tell me to step backwards and go through my generative process so he can see it. When you've been designing stuff for more than a few years, it's really hard to walk through that process, kind of like trying to explain to somebody how your tongue works when you're saying the letter "f." So designing in school has been a lot of painful, excruciatingly slow exercises in explaining how I do things I tend to do without thinking about consciously.
As it was, I got only one piece of really useful criticism, which was that the first architect who looked at my work thought the wall arrangement was too inflexible for a hostel. In between that crit and the next visitor, I redrew the floorplan and fixed that problem and one other one I'd been puzzling over.
But everybody liked how I used tracing paper overlays to show the layers of process in my work. Big hit with the local architect crowd.