We just got back from a trip to Russia with friends. We rented an apartment, marched around Moscow and St Petersburg, and saw a ridiculous number of churches. I never thought I would go to Russia, having grown up during the Cold War, but when you have good friends who are fluent in the language and know all the paperwork and details of getting around that needs doing, visiting seems more workable. As a result of never having dreamed of going there, I knew pretty much nothing about what I wanted to see, or what there was to see. My only knowledge of Russia is from reading piles of Russian literature from the 19th century (in other words, useless).
I've got piles of photos to write about, but first a few basic things about Russia: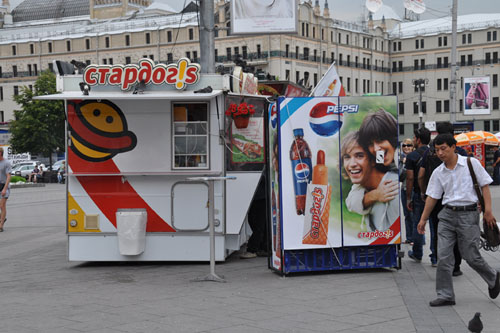 1. The language + alphabet barrier is a killer. Unlike in Japan, in Russia there are only very rarely signs in Romanized Russian, so I spent most of my time trying to sound out words (and my grasp of Cyrillic was not so great when we arrived, either). When I was able to sound out words I was better above to navigate or figure out what things were, but that took a real, concerted effort. Many words were so long that by the time I got halfway through them I forgot what the beginning of the word sounded like. I had no ability to look at a word and know what it said. So THANK GOODNESS we were with friends who both speak good Russian and helped us get around and talk to shopkeepers and buy museum tickets. Seriously. I would not go to this country without somebody who has been there before and can speak at least a little Russian. For most people that would involve going with a tour group.
2. Toilets are... well, first of all they mostly cost money (15-30 rubles), rarely have toilet paper (you bring tissue packets with you just in case), and almost never have soap or any means of drying your hands after washing up. I should have brought a supply of wet wipes in packets for the above situation. And also because just experiencing a Russian public toilet makes you want to compulsively wash your hands all the time, since you know nobody else washed theirs.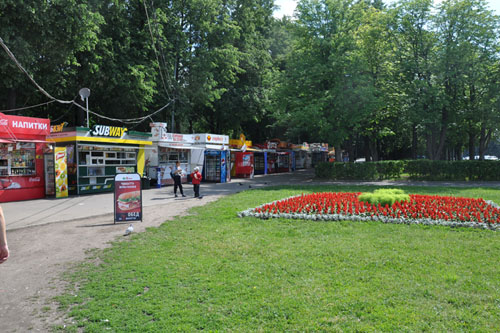 3. Food in restaurants is good but a bit bland, even for somebody who likes bland food like me. We enjoyed Georgian food (which is a little like Armenian), Assetian pies (Assetia is a region in Russia), and blini when we ate out. If you are so inclined, there were many many Subways, plus KFC, McDonald's, and Pizza Hut; we were not so inclined. Most often we ate meals at the apartment, picking up salads, bread, sausages, fish, cheese, and so on at the grocery store. We ate very well, but it would have been difficult to do so living out of restaurants (though I find this to be the case in most parts of world).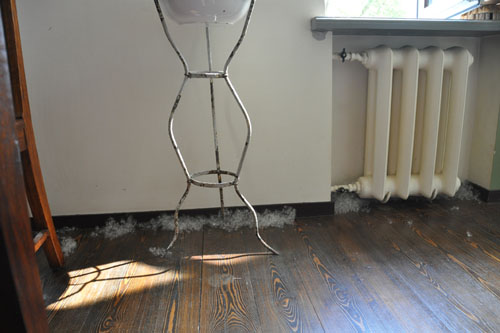 4. In June, you have two important seasons at the same time. On the one hand, the high school students are graduating and there are huge celebrations all over. We managed to be in St Petersburg for their celebration, and then in Moscow for theirs. This is a terrible time to be in these cities unless you want to get terrifically drunk and yell and watch fireworks. The drunk part can be hard though, because Moscow prohibited the sale of liquor in the city for the event. Also in June, you have the puch, which is the fluff from cottonwood trees, that fills the air. And sometimes your apartment. This is just kind of sweet and charming, except when it gets in your nose and mouth.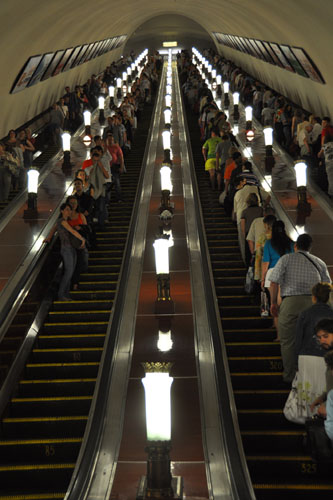 5. The Metro is cheap and fast and easy to use in Moscow. Buses are slow and unreliable and a bit confusing. Almost nobody uses the buses. Also, the escalators in the Metro go ridiculously fast. Dangerously so. Then you get used to it and come back to the US and all the escalators seem really slow. The Metro stations go between plain-jane platforms and ornate palaces of Socialist-Realist art. You can see them better if you don't try to do it during rush hours.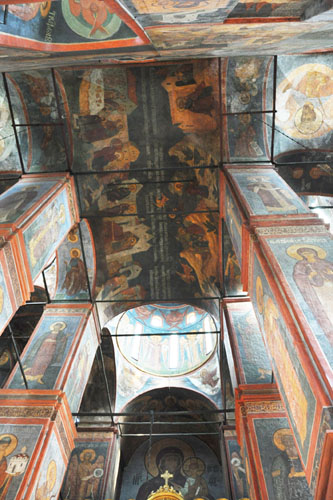 6. Most museums and churches have formalized the bribes people used to pay to take photos. You can pay for a photo pass for most places (but not all) that allows no-flash, no-tripod amateur photography. It usually costs less than $10. Also, yes, it is possible to get totally tired of looking at ornately decorated churches packed with gilded icons.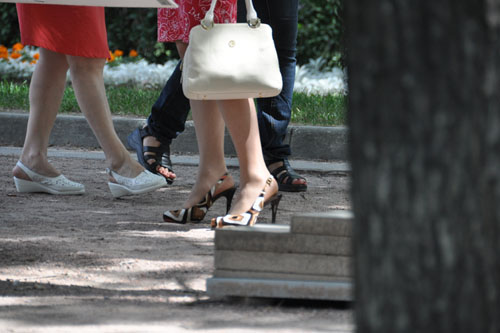 7. Russian women walk around in the most incredibly high heels in all weather and conditions. The sacrifices they are willing to make for fashion are awe-inspiring. And they're really walking in those shoes, hauling ass over several miles of park sidewalks, for example. Mad props to the Russian ladies, everybody. I suspect they could take any of us in hand-to-hand combat (maybe they wear the shoes so they have a pair of weapons on them at all times).