I know, I know, I haven't posted here in quite a while, and even that was kind of cursory. It even resulted in the server getting hit with a massive spambot swarm last week (which is why this blog no longer accepts comments; sorry, but they're not worth it).
Anyway, how about some travel photos from Turkey?
One day we went to a rug weaving informational center and market. It's called Sultanköy, and it's right next to Efes, which would have been super convenient if we were going to Efes (which we were not, actually, on this trip).
It turns out they are open by appointment only, which they do not say on their web site. But they had just had a big group of tourists in that morning, so they were all set up and able to show us around, which was awfully nice.
They had a big room where several women were working on rugs in various styles.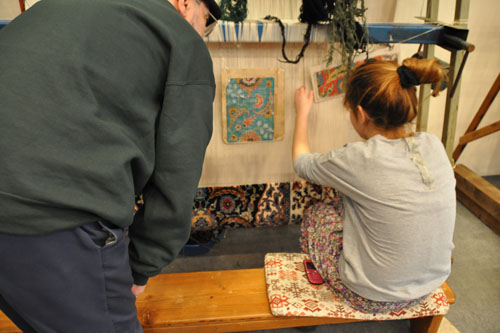 They have these nice stools to sit on, with a little cushion. Instead of using one massive cartoon as I have been trying to do, they have sections of the rug design worked out on graph paper and laminated (I think this was just with tape and cardboard) to make a handy card. The card hangs from a bar on the loom for convenient reference.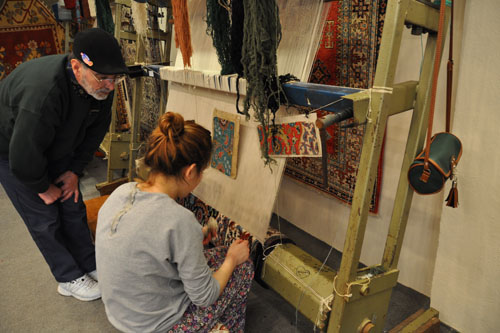 Here's another way of looking at those cards. The weaver doesn't work evenly across: she was working on the middle of the pattern when we arrived, and switched over to the side to show us something else. She puts down a weft thread when needed, not necessarily when she's knotted across an entire row.
I got a couple samples of the wool knot yarn, which is millspun singles, quite loosely spun, from a fairly rough wool.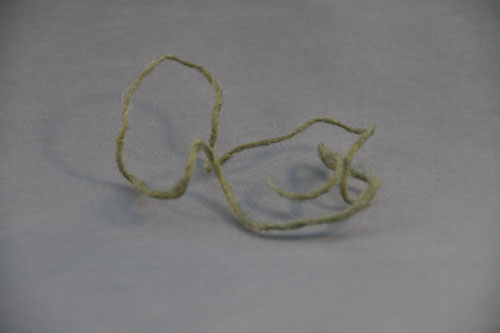 After each knot, the weaver just breaks the wool, rather than bothering to cut it.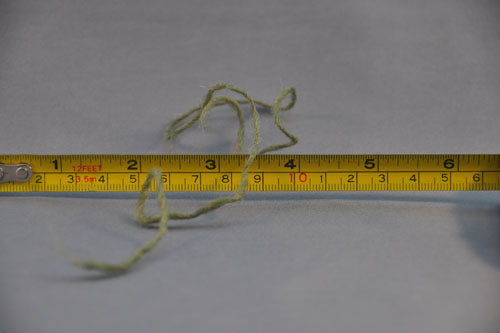 The knot yarn is also very uneven in thickness. It would be trivial to duplicate this myself on a wheel. The hardest part would be not making it too thin.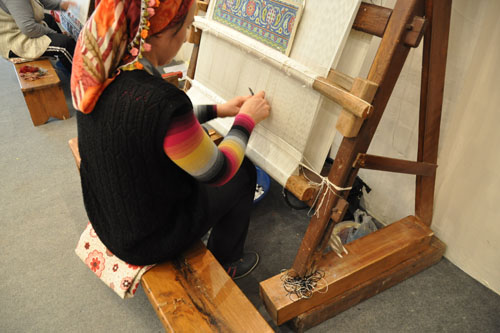 There are basically three types of rugs: wool on a wool warp, wool on a cotton warp, and silk on a silk warp. This weaver is starting a silk on silk rug. Because the silk knots are smaller and everything is finer, the rugs end up a lot smaller (and thus seem more expensive per square foot). Silk rugs are generally not for floors, but are wall hangings or gifts (like a ceremonial prayer mat, which is not intended to be used).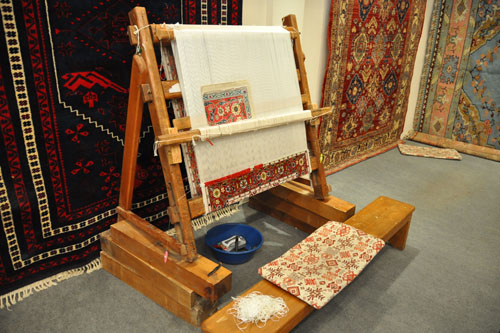 This is a silk rug that is mostly finished, and ready to be cut off the loom.
The silk knotting yarn is a lot stronger than the wool (reeled silk just is), and the weaver cuts it with a small knife that she holds in her hand after each knot.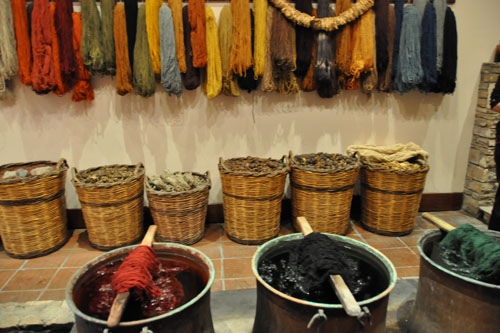 The center has a small natural dyeing exhibit, which is probably more interesting to somebody who has had little exposure to the craft. I was interested to see the various hulls and skins they use for specific colours in Turkish dyeing, but I have a pretty detailed book on that already in Turkish (which I can just barely read).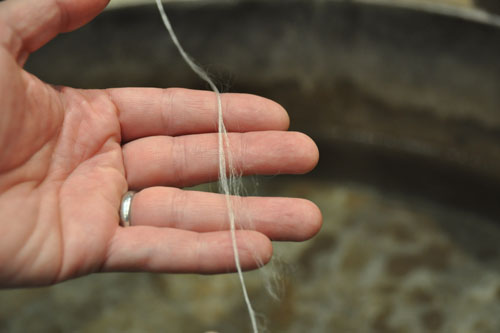 They also had a silk reeling setup, which was very informative. The knotting silk is reeled from 40-50 cocoons at once, which makes it quite thick.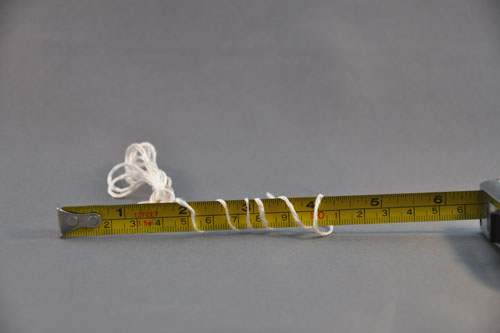 This is my little sample of the reeled silk. It's also not twisted very tightly, though silk generally likes a lot of twist.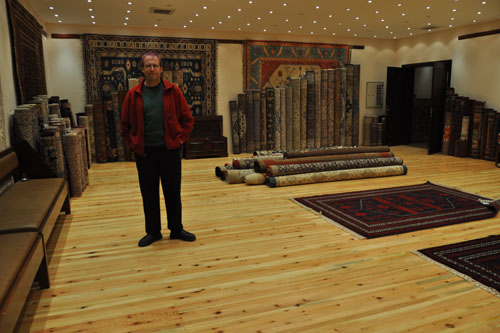 After showing us the process, they took us into the sales room, where they laid out several rugs for us to look at and compare. I wanted to buy a rug sized for our (small) front parlour, which meant something around 8x10 feet, maximum. Even that would be right at the edges of the room.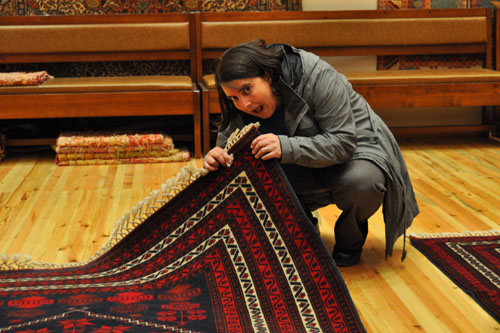 I bought a smaller rug, about 6x8 feet. It's in a style typical of the area around Bergama, with rich dark reds and blues and a contrast of natural wool white.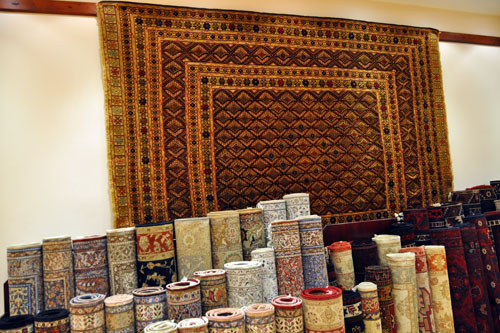 I admit to being kind of intrigued by the rug hanging on the wall. It's an "embroidered" rug, a mix of flat weave, knotted pile, and hand embroidery.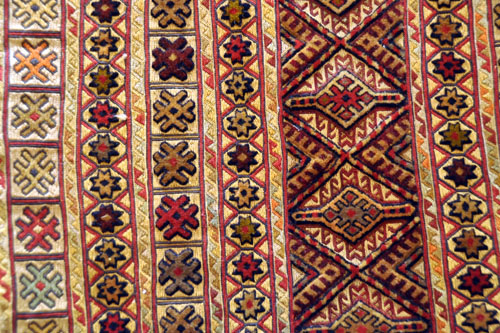 The texture is really fascinating, but I knew the instant I saw it that this rug would not do well with animals. In our house it would have to be a wall hanging, and I don't have a place where I could hang it up right now.