My mother asked me if I was knitting the socks shown in the last post. I'm not, but I designed my own pattern based on some of the things I've been learning from the sock books I'm reading.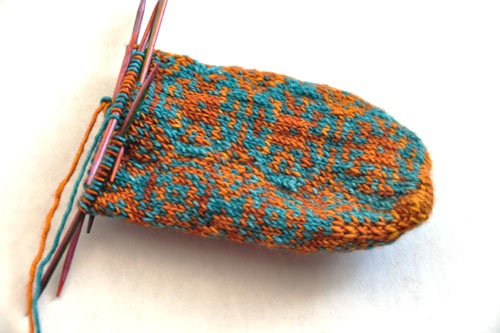 This is the first of the pair. I used the toe I like most, which turns out to not work so well with a Turkish sock design. The central motif (that looks like a weird spider; I have the sock tipped over so you can also see the side pattern) is called pervane, which means a moth that flies towards light. The word for a wool moth is actually something else entirely, which should tell you something about Turks.
The side pattern is a pair of variations on themes and ideas that come up often in Turkish sock knitting, though actually the curved lines I put into this design are rare. I was happy to start reading Betty Harrell's excellent (and again, out of print) Anatolian Knitting Designs, which is written by somebody who both spoke Turkish and spoke directly to the knitters. She also concentrated on one specific cultural group, Sivas women in an Istanbul shantytown, so in her book the same pattern does not have eighteen different names. When I make a scan of the appropriate page, I can also show you what the actual elma -- apple -- pattern looks like.
That book has a lot more detail on the development of patterns and how they go together on the sock. I'm nowhere near as relaxed about perfection as the villagers are, though, so I spent a week fiddling with the details of my design in Photoshop, making a perfect chart and resolving all the weird intersections of patterns. Definitely a first-world problem.
Anyway, in a couple of days of knitting I've gotten halfway up the foot on the first sock, and things are moving along rapidly. I've also learned why Turkish socks are structured the way they are. The common square Turkish toe, made from a strip of fabric knitted up and then stitches picked up to add two more sides works well with the usual structure of a front, side, and back pattern that each end up on their own needle.
My next challenge is to learn how to spin the proper yarn for socks, which turns out to also be the proper yarn for knotted-pile rugs, as they used the same stuff.