Having made one massively hugely chunky yarn (that knitted into the World's Ugliest Hat, the sight of which I will spare you), and then one yarn that was just too thick for my usually kind of knitting, I'm now attempting a thin yarn. I'm not sure I'm getting it, but I am getting a bit thinner. I bought a smaller spindle, which seems to help.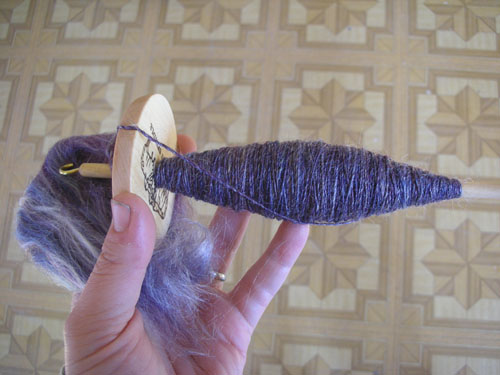 This fiber is a merino/tussah mix, from Ashland Bay. The wool is not bothering me, but I've found merino doesn't tend to (yay). I'm doing better at spinning the same thickness, even if that thickness might not be the thickness I really wanted.
I'm also getting neater at making my cop.
To deal with shoulder pain, I'm only drafting out as much fiber as I can with my arm extended in front of me. That doesn't hurt as much, and even if it is slower, I can spin for longer.
In other fiber-world news, I've gotten much further along on my lace design, thanks to an all-day workshop on LED lighting (fascinating subject, but I always doodle in class, so working out problems in my lace charts fits in very nicely).
I've made this modified "fountain lace" pattern (please ignore the mistakes in there; some things had to get worked out live). Now I need to shift it to slot into the fish scales pattern. Also, I redesigned the fish scales pattern and need to re-swatch that, which will work in nicely with figuring out how to slot the fountain design into it.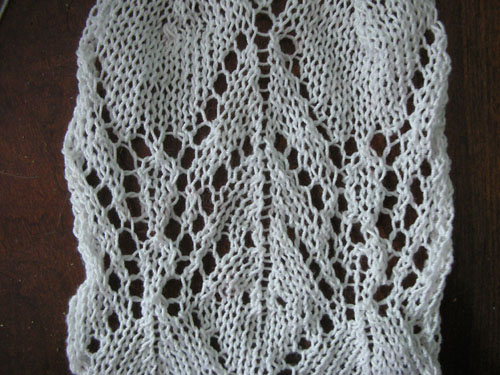 I know it's probably overkill to spend so much time trying to make my lace stitches flow perfectly from one pattern to the next, but it pleases me.

Technorati Tags: crafts, design, knitting, lace, spinning, yarn