Yes, it has been a while since I updated this blog. Not for lack of doing stuff but because we've been working like mad on the house and there's been some house blogging going along with that. So how about a little incomplete update on spinning projects?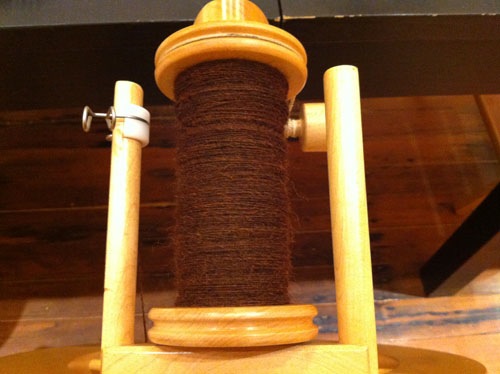 This is some coloured Shetland that has been overdyed to a lovely brown with coppery highlights. I'm spinning it fairly fine, with no real objective for the finished yarn. Just, you know, yarn.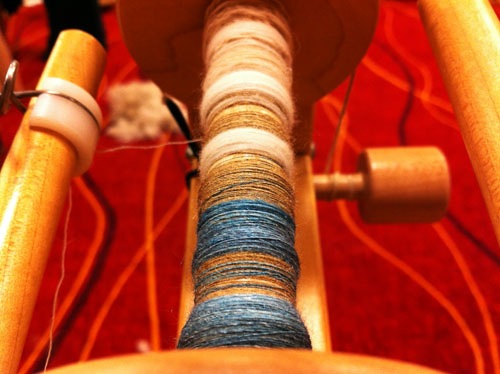 A bit ago I spent all weekend in Oakland (I know, big trip) at CNCH. I took a class with Sara Lamb on spinning silk, which has always frustrated me (I learned it was OK to throw out the slubby bits and it all came together), and one with Judith MacKenzie on spinning fine. As you can see from my class bobbin, spinning fine seems to have worked fine for me. The trick there was moving up to the fast flyer.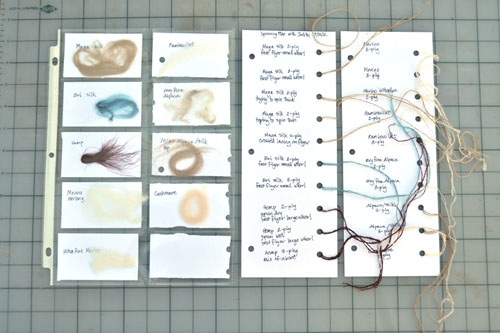 This is my class sample set from Judith's class. I need to turn the samples from Sara's class into something like this. I have the pages to do it, just haven't gotten around to it. I like to save these with dates on them to see how my spinning progresses.
In February I went to Tacoma for Madrona, where I took some really interesting classes and one pure stupid class. See, I have consistently been a lousy hand carder. I hate it and find it painful and the results are never anything good. So I took a class with Carol Rhodes on hand carding.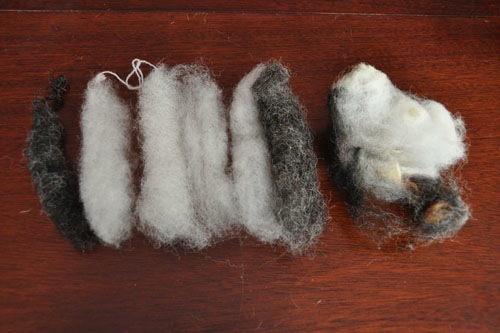 My first rolags. I ran out to buy a spindle to try them out I was so happy with how they came out. They were inspiring.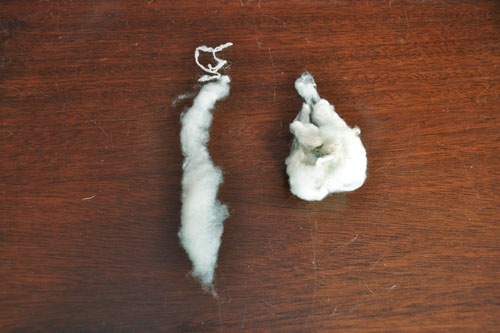 We tried fibers of varying textures and lengths. Like this super short and fine wool.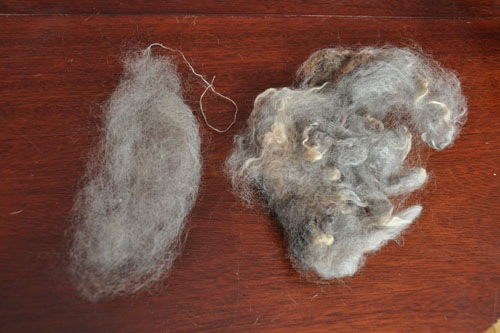 And this longwool.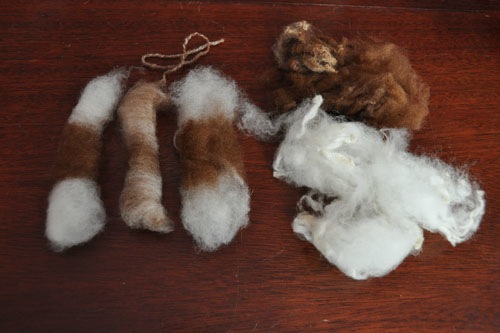 We blended colours of wool together.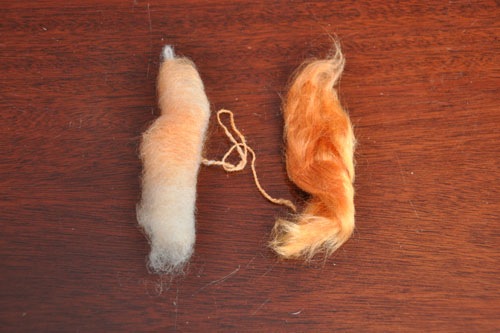 And we blended silk with wool.
In all a really good class and I didn't feel as stupid in it as I expected. I probably will not cut down my addiction to Morrocrack, but there is one partial fleece I have washed and waiting for prep that I would like to try carding up. And maybe some of those unwashed wool samples Judith is always stuffing into my hands could get washed up and spun into something interesting.
At the end of the month I'm going to do something called the Masochism Tango, which is to say spin along with the Tour de France for Tour de Fleece, then use the finished yard to knit up a project for the Ravelympics (which is knitting along with the Olympics, not that I have the sort of TV you need to watch the Olympics, but it's the spirit of the thing)(I also never watch the Tour, for the same reason).