Well, not all the way across, but a decent distance. Noel and I drove to visit a bunch of family and friends in the Midwest, with a side trip for me to take a class.
We started our visits in Billings, Montana, where Noel's childhood friend Scot led us on an impossibly long hike up a butte. Awesome view, though.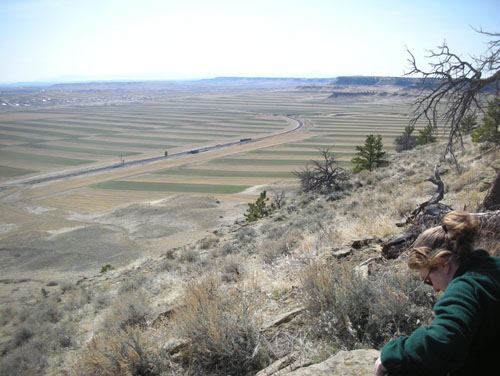 Technorati Tags: flooding, michigan, midwest, minnesota, montana, battle creek, travel
One idea with the hike was to give the girls a chance to stretch their legs after a long ride in the car.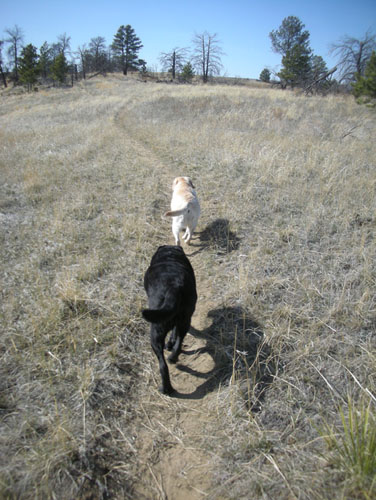 When you're behind the dogs, the view never changes, I guess.
The hike was actually quite nice, because my overall impression of Montana was of being somewhat overfull. We ate at a steak house and I was utterly defeated by my dinner. We ate at a breakfast place and I was also unable to finish. Then Scot made us blinis. So it was very pleasant to get some activity, and once we'd hauled ourselves up the butte, the hiking on the top was very comfortable. The girls had a good time, too.
Then it was on to Minneapolis for a series of family visits. Noel's family has been having a rough year, so it was nice to have time to see everybody without it being a family emergency. Of course, the Mississippi was a trifle high.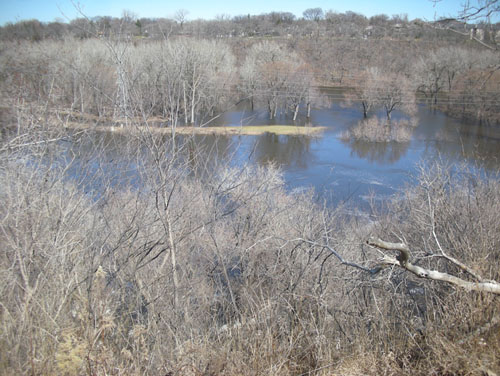 This the view down from Fort Snelling to the delta where the Mississippi and Missouri join. Those submerged trees are in a park: you can se a tiny red picnic bench down there right at what is now the water line. Our route out of town was perfectly safe, but the news was full of people angry about flooding taking out bridges and causing massive detours.
We moved on, through Wisconsin, which seems to think it's some kind of dairyland.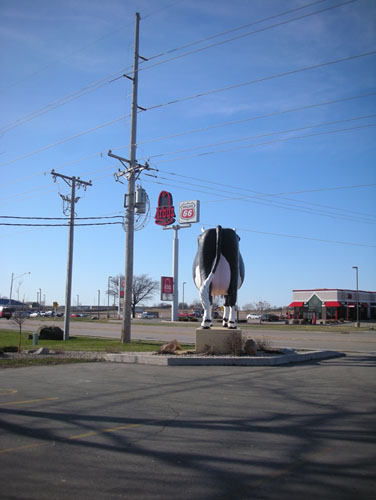 We stopped in at the Cheese Chalet to see what cheese they had on offer.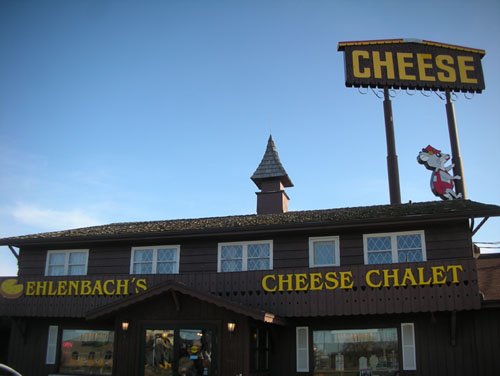 Normally, I'm skeptical of Wisconsin cheese. Not that it's not fine for what it is, but it's generally only a few styles, all not super interesting by my cheese standards. (I like odd little French cheeses wrapped in moldy leaves.)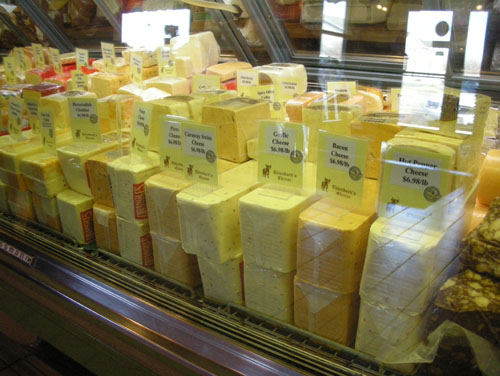 We got some cheddar and a packet of mozzarella sticks, which is where you want to focus in Wisconsin. We avoided the "snoked" flavour cheese.
And of course a photo with the beeeg cow. It was freezing cold out, of course.
In Battle Creek, Michigan, we stopped in at the home of 7th Day Adventists. They had a fascinating museum of old medical devices, most of them focused on good bowel movements and plenty of sunshine.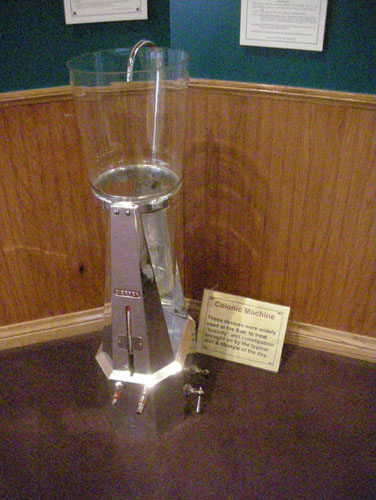 This is a colonic machine.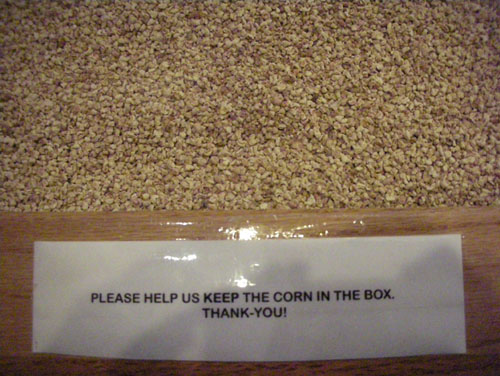 And, well. Just lend a hand, will you?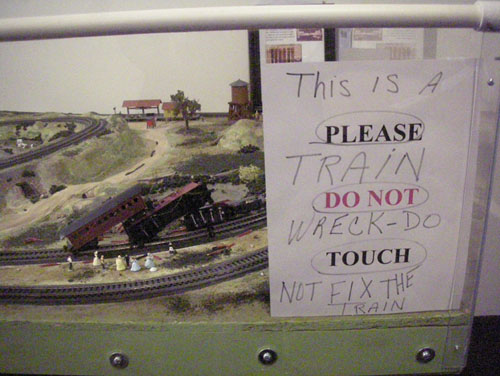 There's some kind of legend about somebody being saved in a train wreck by an angel or something. Not nearly as interesting a story as the sign on the diorama.
The museum included some interactive quizzes. I got this one wrong.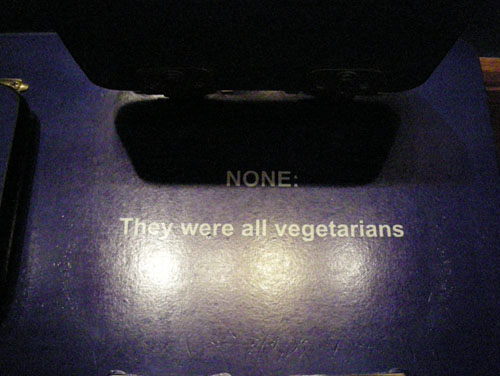 But as a consolation prize I burst out laughing at the logic.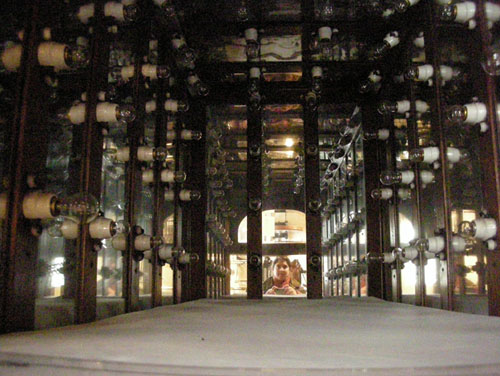 I find the more contemplative devices more intriguing. The sign said that a light box like this one was on the Titanic.
Also in Battle Creek are those icons of America, the cereal factories. However, they are closed to the public.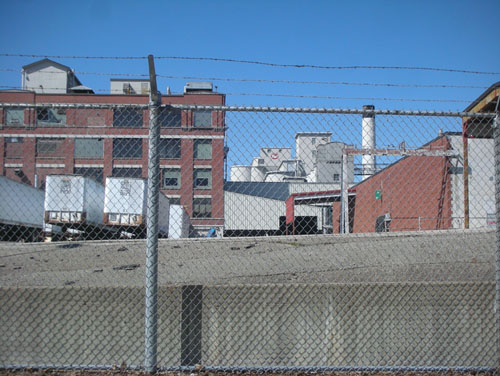 Indeed, they looked kind of like prisons (this is Post). I was a bit disappointed that there was really no tourism around the cereal. Apparently cereal companies are super paranoid about espionage.
From there it was on to a weekend in a weaving class. More on that tomorrow!