July 11, 2005
What's Up?
I haven't been posting, because I've been spending all day on the computer and coming home with little desire to sit around on the computer some more. But life continues apace. Work is good; I'm learning a lot about the business of architecture, and a bit about the nature of small companies.

This weekend Noel was away at English Country Death Camp, so my friend Elaine and I went on a trip down to visit my apartment in SLO, taking the dog with us for a bit of R&R from her challenging life of sleeping in sunbeams and sniffing The Pile.
The artichoke was drying out, setting seeds. Dramatic and interesting in a whole new way: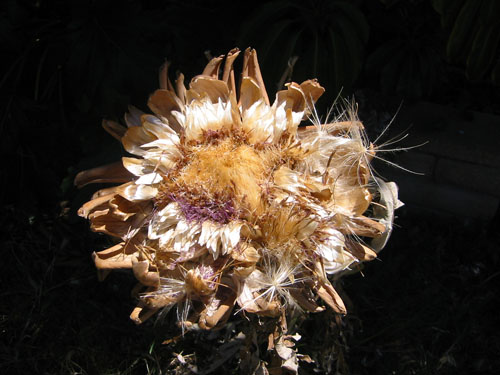 I liked this little fountain we saw at a store downtown. I happen to have some dribbly teapots I was going to throw away (I hate dribbling hot tea all over the place), so I may make one like it: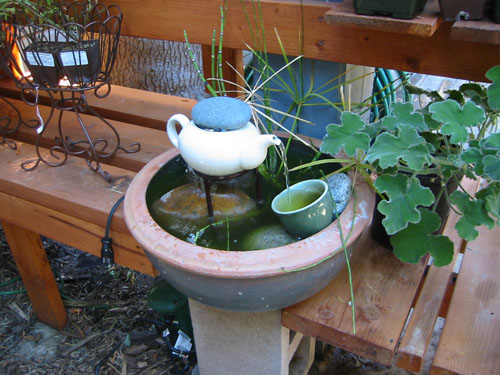 It's been hot, and Rosie was kind of shedding over the weekend so this afternoon I gave her a good brushing, then John took her out for another brushing a few minutes later because she was still kind of sheddy: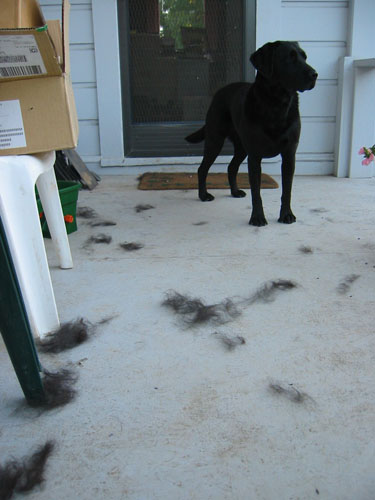 I've been told that you can spin this up to make a dog wool, and knit it, but when it gets damp it smells like wet dog. I think I will continue to leave it out for the birds to make nests from.
In other news, the grape farm is going OK. I've been reliably told that they will all die, but what the heck. I don't have much else to take my mind off the catastrophe of our renovation project. I've had a few casualties so far, and some are thriving a lot less than others, but so far so good:

It's interesting that the seedlings that sprouted last are the weakest growers.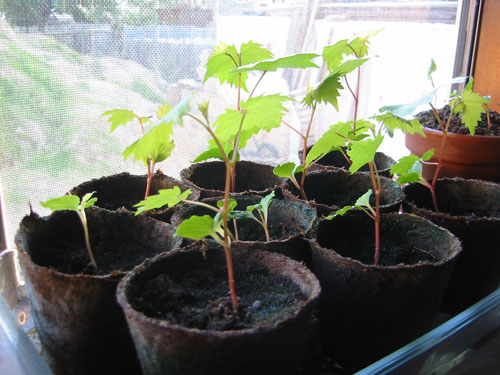 Posted by ayse on 07/11/05 at 9:51 PM