Streamlining My Gear
I've been knitting for a really long time, and have acquired lots of gear over time that has just turned into a huge jumble. Recently I decided to cut that out, and I have been pruning my stuff down to my favourites and some more versatile pieces.
Here's everything, now. OK, I still have a bunch of straight needles that I'm probably going to give away, and those are stored in a big roll-up needle holder, but this is the stuff I'm using regularly.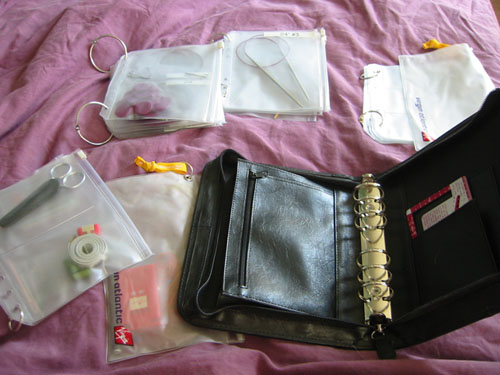 What's in there, anyway? Well, I got the storage pages from KnitPicks, and tied them into bunches with some loose binder rings. I also have the big binder thing that comes with the set, but I find it can't hold as much as I want, and then it's hard to separate the pages into categories. I'm still deciding whether I will use the binder for current projects or not.
In this first set of pages, I have some ordinary circular needles of various sizes. Some of these I will eventually get rid of, because I don't really need them any more. The pages are labeled with the size of the needle and its length.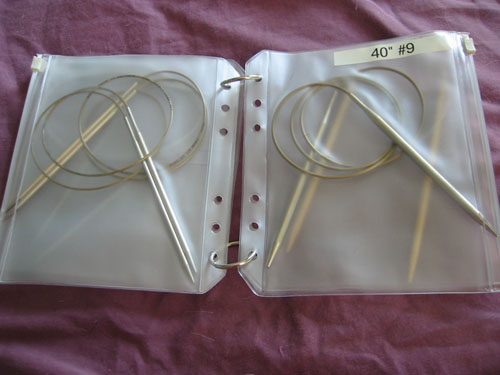 In another bundle, I have all the bits and bobs from the set of KnitPicks Options needles I bought this summer. I'm very happy with this set because not only are they very fine circular needles, but they can be set up to operate as straight needles, too. Four of the pages that have three pockets will hold all the tips currently available from KnitPicks. Again, I labeled them with the size. The cables are stored in two-pocket pages and also labeled with their length.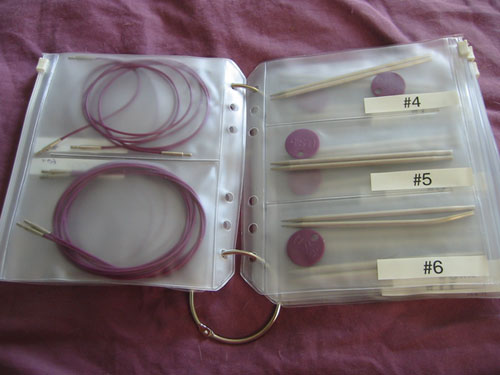 Another bundle of pages holds my little tool bits. Markers, cable needles, my little embroidery scissors, measuring tape, that sort of thing. I used to have a lot more of this stuff, but I've been getting rid of the things I don't use very often or only use out of guilt.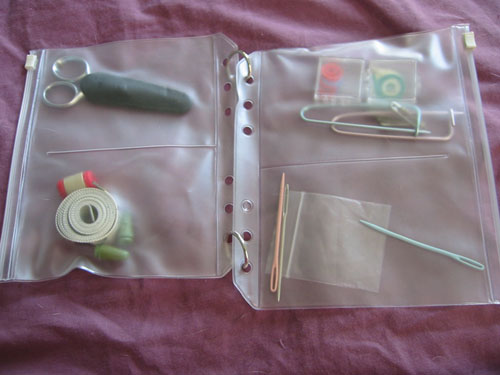 I use this little bag to hold the tools for my current project. Mostly things that would get snagged on the yarn in the knitting bag. It's a toiletries kit from an international flight on Virgin. I like that it is see-through, so if I'm looking for something I can locate it from the outside instead of having to dig around.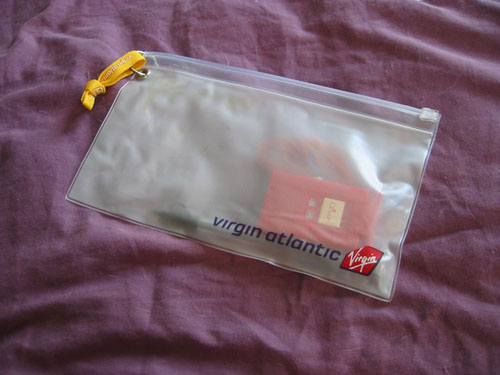 And I had a few bags and things left over. Nice if I break something, or get more stuff and need to have more space, but also nice to keep away from the main working tools.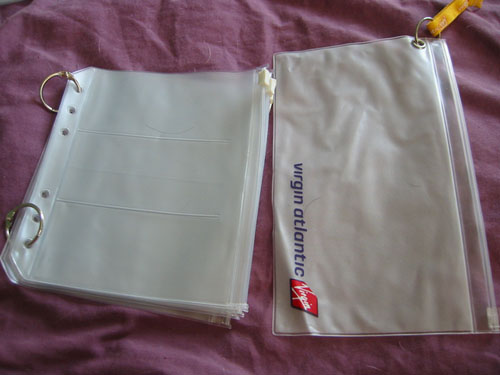 I've been looking for a cheap cardboard 6-ring binder to hold these together, but the loose binder rings work very well and the pages fit nicely into a little box I have, so this system will work just fine. Now I can stop obsessing about getting it all organized and perfect, and actually do some knitting.

Technorati Tags: crafts, knitting, organization